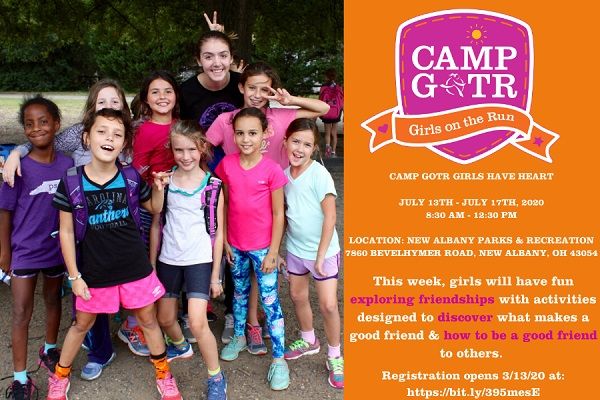 Camp GOTR combines the best of Girls on the Run with all the fun of camp! During each week-long session, rising 3rd-5th grade girls (those exiting 2nd grade to those entering 5th grade), will build friendships in a fun and inclusive setting that includes interactive games, being physically active, and expressing creativity through art & crafts and storytelling.

Registration for CAMP GOTR opened Friday, March 13th!
Camp Dates: Monday, July 13th- Friday, July 17th, 2020 8:30am-12:30pm
Don't miss out! CAMP GOTR @ Bevelhymer Park, New Albany Parks and Recreation, has a limited numbers of spaces!

Sliding fee scale based on household income ($170.25-$40.25)
Girls on the Run Central Ohio is a 501(c)3 nonprofit organization dedicated to creating a world where every girl knows and activates her limitless potential and is free to boldly pursue her dreams. Girls on the Run inspires girls to be joyful, healthy and confident using a fun, experience-based curriculum which creatively integrates running.
CAMP GOTR is for rising 3rd to rising 5th grade girls (girls leaving 2nd grade going into 3rd, leaving 3rd going into 4th, and leaving 4th going into 5th grade) for the 20-21 school year.
Learn more at:
https://www.girlsontheruncentralohio.org/Camp-GOTR
CAMP GOTR: 7/13/20-7/17/20, Monday-Friday, 8:30AM-12:30PM
CAMP GOTR @ New Albany Parks and Recreation, Bevelhymer Park, 7860 Bevelhymer Rd, New Albany, OH 43054