Summer Camps: Weekly June 3rd to August 2nd.

Camp Hours: 9am – 2pm. Extended day available until 5pm.

Ages: 6-12. Grouped by age & ability.

Price: $49 daily or $199 weekly. Early Bird and Multi Week discounts available. Plus, save 20-30% with a D-BAT membership.



Come learn and develop your baseball and softball skills in a fun environment.




Skill Work: Hitting, Pitching, Fielding, Base Running and more.





Games and Activities: HR Derby, Dodgeball, Kickball, HitTrax Virtual Simulator, Capture the Flag & Water Days including slip-n-slides and water balloons.


D-BAT Columbus Baseball & Softball Academy is a well-lit, climate controlled, state of the art premier training facility. D-BAT provides high quality instruction, over 50 camps/clinics yearly, cage rentals for individuals & teams, pitching machine cages using real baseballs & softballs, hitting leagues, bat demos, sports performance training and a fully stocked Pro Shop.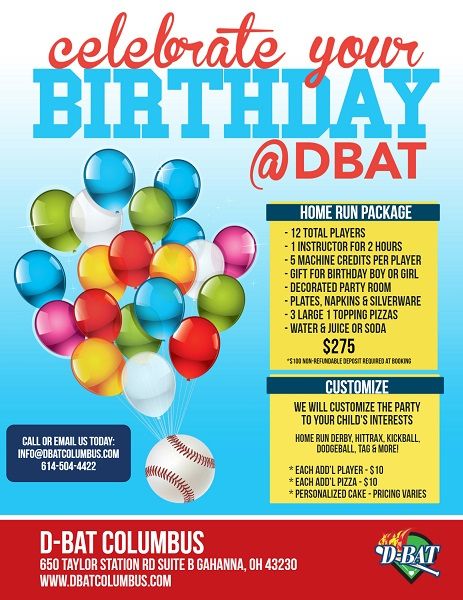 Come celebrate your birthday with D-BAT. A D-BAT birthday consists of 2 hours with an instructor for games including home run derby, kickball, dodgeball, batting cages, HitTrax simulator and more! Party includes pizza, drinks, tableware and decorations. Be the parent who throws your kid an unforgettable party!