Just Between Friends Northwest Columbus

Aug 7 10am-9pm; Aug 8 9am-3pm Aug 8 Half Price Sale 4pm-8pm; Aug 9 am-2pm 75% off Sale
Old Gander Mountain in the Westpointe Plaza
5388 Westpointe Plaza, Columbus, Ohio 43228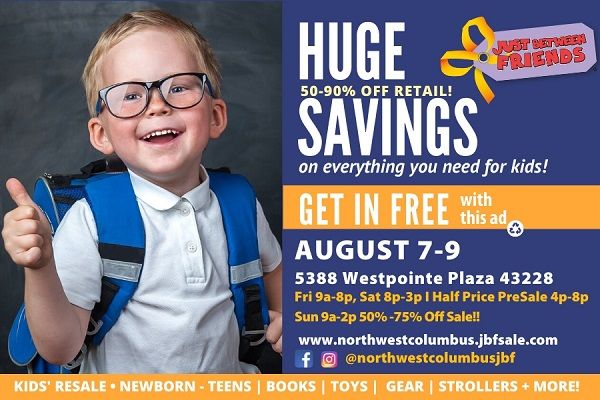 Just Between Friends (JBF) understand that kids grow fast, and keeping up with their needs can get expensive. So they created a community marketplace where families can sell the things their kids are no longer using and buy what they need for the next two seasons at 50-90% below retail prices.




Anyone can sell with JBF and absolutely everyone can shop. This is one sale you cannot afford to miss.




What is JBF? It's a way to say "YES" to things your child needs! Families sell their items for well below retail (50-90%), allowing you huge savings - from clothing, books, puzzles, strollers, toys, shoes, car seats, boppies and so much more! Did you hear books and toys mentioned? Huge!




Shop Smart! Why pay retail prices when you can save 50-90% off. New Melissa and Doug toys 25-30% off retail prices.

Whatever you do, don't miss this fantastic SAVINGS EXTRAVAGANZA! Early shoppers get the best deals. Make Friday night a girls night and get to the Sale for 50% off all non stared tags. It's the best deal in town.

JBF Northwest Columbus is an Upscale Baby, Kid, Teen and Maternity Popup Consignment Sale. Be your family's Budget SuperHero. You can Shop and Sell for your whole family. Now that's Smart! Shop and get fabulous deals for your kids 50-90% off retail prices. Sell your items and earn 60-75% of all items sold. Save time because everything is all under one roof. Now that's Smart.



All prices are priced by individual sells all under one roof. Prices can be as low at $0.50!