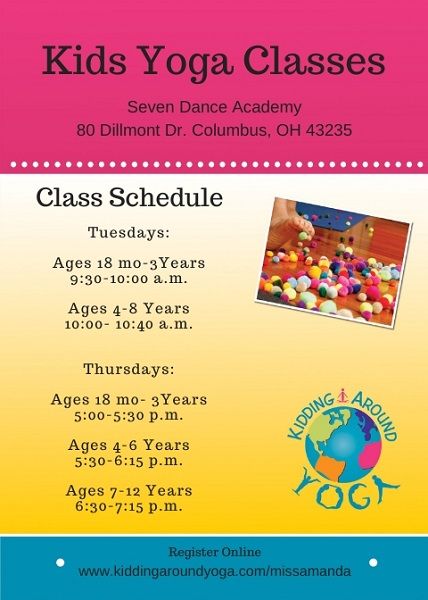 Every Kidding Around Yoga (KAY) class offers a complete, age-appropriate Yoga practice including breathing instruction, relaxation techniques, stretching and strengthening poses, all using fun-filled music, games, and imagination. KAY's secret is playfulness, keeping your child motivated, excited, and moving. This is not your typical Yoga class. A KAY class gets children singing, dancing, skipping, marching, jogging, shaking, laughing, hopping, limbo-ing, and storytelling ALL while practicing Yoga to original KAY music.

Kidding Around Yoga classes are a unique opportunity to give your child skills that will provide a sense of balance, calm, and power for years to come.

See website for classes near you. Classes can also come to your location for birthday parties, Girl/Boy Scout troops, playdates, family yoga, childcare centers, schools, libraries and more!




Kidding Around Yoga with Miss Amanda travels to locations throughout Central Ohio.





Classes at Seven Dance Academy will begin February 4, 2020. Seven Dance Academy is located at 80 Dillmont Dr. Columbus, OH 43235.