Ride the COTA Zoo Bus and receive discounted admission to Columbus Zoo and Aquarium and Zoombezi Bay!

Columbus Zoo and Aquarium Admission: Only $3 per person!

Zoombezi Bay Admission: Only $10 per person!

The Zoo Bus runs: Weekends and Holidays from May 6-September 4; Weekdays from May 30-September 1

The cost to ride COTA is only $2 each way.

Visit www.cota.com/zoobus for schedule information or call (614) 228-1776.


---

Get to the pool, your internship, soccer practice, the zoo and all your other favorite summertime destinations. Youth ages 17 and younger are eligible. The cost is just $62 for the entire season!

Passes go on sale Monday, May 15, 2017.

Passes exclude Mainstream service. Only one pass available per person.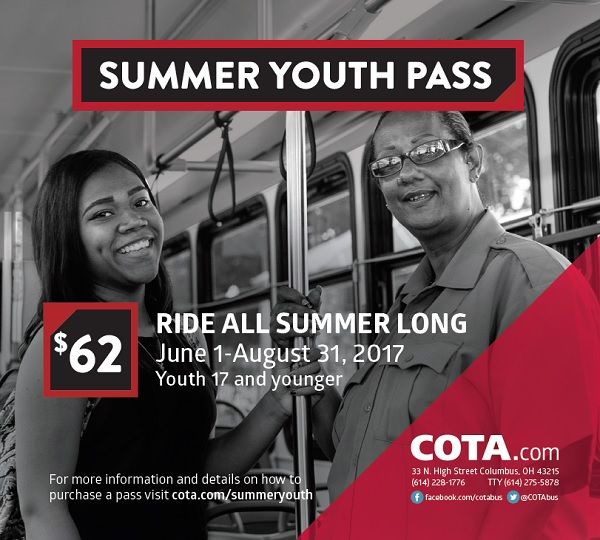 How to get your pass:

IN PERSON:
Bring proof of age (Driver's License, OR Birth Certificate WITH Photo ID) to COTA Pass Sales
33 N. High St.
Columbus, OH 43215
Monday-Friday, 8 a.m.-5 p.m., starting Monday, May 15, 2017

BY MAIL:
Mail proof of age (copy of Driver's License, OR copy of Birth Certificate WITH Photo ID) to COTA Pass Sales
33 N. High St.
Columbus, OH 43215

Passes valid June 1-August 31!

COTA Keeps People on the Move
The Central Ohio Transit