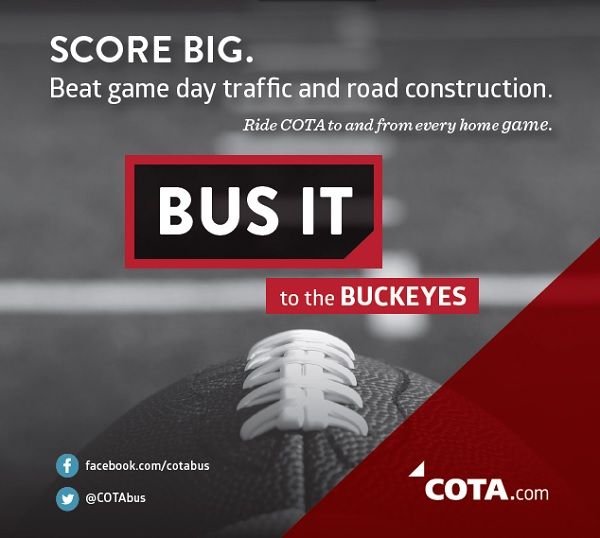 COTA Keeps People on the Move

The Central Ohio Transit Authority is the regional public transit provider for greater Columbus and central Ohio. With a service area of 1.2 million residents, COTA provides more than 19 million passenger trips annually.

Thanks to the support of the community, COTA now offers a more comprehensive bus service, with extra lines and longer hours of operation. Today, COTA operates throughout Franklin County, and parts of Delaware, Fairfield, Licking and Union Counties.

Avoid game day traffic and road construction. Ride COTA to and from every OSU home football game!

COTA's OSU Football service operates three hours before and two hours after each home football game.

Express service from the Ohio Expo Center is $5.50 per person plus $5 for parking.
Express service from the COTA's Crosswoods Park & Ride is $5.50 per person and parking is FREE.

There are seven other lines that serve the campus area and the cost to ride is $2 each way.

Visit www.cota.com/osufootball for schedule information or call (614) 228-1776.