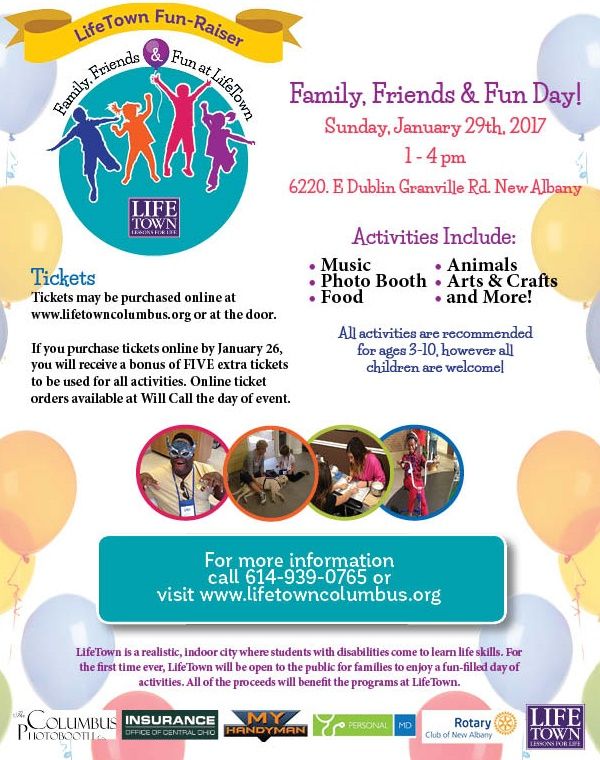 Lifetown Family, Friends & Fun Day is Sunday, January 29th 1-4pm. Tickets available online or at the door. Tickets purchased online can be picked up at Will Call the day of the event.

Tickets will be needed to participate in some activities. A minimum purchase of $10 tickets is required at entry. $10 - 10 Tickets, $20 - 20 Tickets, $30 - 35 Tickets. Entry for adults accompanying a child is free.

Lots of Free Activities including: Face Painting, Arts & Crafts, Music & Movement, "Fit for Life" visit with free toothbrush & toothpaste, Library Story Time, Visit to Pet Place where real animals reside, healthy snack demonstrations, yoga class and tae kwan do class.

Special Offer: Receive 5 free tickets when purchased before January 26th.

Activities recommended for children ages 3-10, however all children are welcome!

Please see the flyer for more information!

Find out more here!

Sponsored by My Handyman Columbus, The Columbus Photobooth, Insurance Office of Central Ohio, Personal MD, Rotary Club of New Albany, Strahler Development, New Albany Women's Network and Interstate Battery.