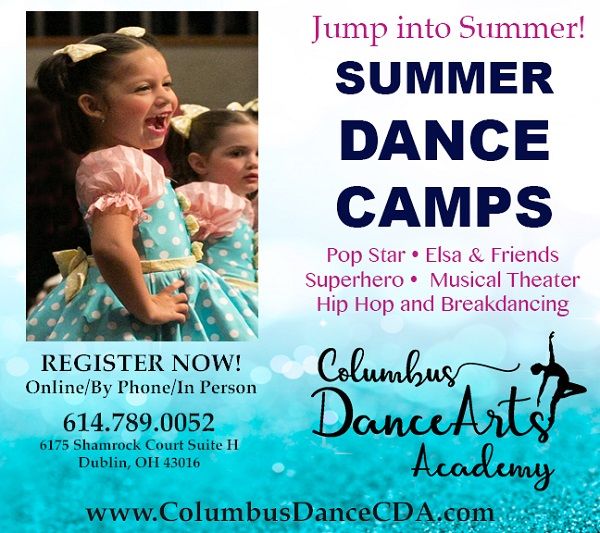 Join the summer fun at Columbus DanceArts Academy in Summer Dance Camps that are charged with creativity, energy, self expression, imagination, crafts and of course, DANCE!

Experience the magic of Elsa and Friends Camps, feel like a star in the Pop Star Camps, soar like a hero in the Super Hero Camps, bust out the moves in the Hip-Hop/ Break Dance Camps, dance it out on Broadway in the Musical Theater Camps! CDA Summer Dance Camps offer a unique opportunity for children ages 3 through teen to experience dance and the performing arts in a fun, family friendly environment. Dance Camps are each two hours long and meet four days a week, Monday-Thursday, for various weeks throughout the summer. Dance camps include a craft time where campers create props that are incorporated into their dances or create their own camp t-shirt. Don't miss the fun!

Columbus DanceArts Academy (CDA) is a performance based Dance Academy offering dance classes and dance performances for toddlers, preschool, youth, elementary, preteen, teen and adults. CDA emphasizes success based dance instruction with age and level appropriate curriculum in a positive, family – friendly environment with professional, experienced dance instructors. Easily accessible Northwest location! Providing quality dance classes and performances to Dublin, Hilliard, Upper Arlington, Worthington, Powell, Columbus, Marysville and more!

Register for classes today!

Ballet, Tap, Jazz, Hip Hop, Creative Movement, Modern, Lyrical and Pointe. Ages 2-Adult: Beginning, Intermediate, Advanced and Pre-Professional Levels.

Performance-Based Academy
Positive and Artistic Dance Instruction
Mini/Kinder Program Includes: Creative Monthly Themes, Age Appropriate Music and Hand Props Which Assist In Igniting The Imagination!
Beginning Levels for All Age Groups
Exceptional Pre-Professional Training Program
Call Today for a FREE Trial Class 614-789-0052!