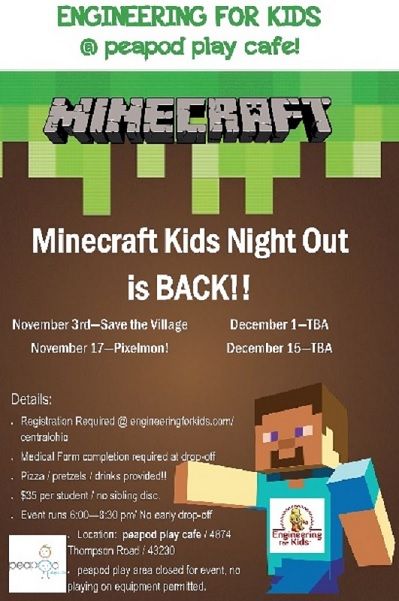 Engineering For Kids Open Exploration with MinecraftEDU!
November 3rd - Save the Village!
Everyone will need to work together to save the town from several devastating natural disasters! Players will use teamwork and civil engineering skills to design a containment system for lava and structural soundness to guard against earthquake damage by using the limited resources available in the town!
November 17th - MinecraftEDU
with Pokemon is AMAZING! This world we are opening up is filled with Pokemon that you can catch, train and battle! You have to see it to believe it! Players will be given a pokemon, along with a few supplies to survive as well as hunt for new pokemon and train them on new attacks for battle. The possibilities are endless, come play with us and see what you can find!
Register now for fall classes at Engineering For Kids!
Engineering For Kids brings science, technology, engineering and math (STEM), to kids ages 4-14 in a fun and challenging way through classes, camps, clubs and parties. Engineering For Kids is proud to inspire children to build on their natural curiosity by teaching engineering concepts through hands-on learning. Engineering is, after all, one of the fastest growing industries in the world!
Take a look at the Engineering For Kids Evening/Weekend line up for this fall! Classes start soon; register now to reserve your spot!
Engineering For Kids is running its amazing STEM enrichment classes in several cities this fall and have programs almost every day of the week including Saturdays! There is sure to be a perfect fit for your young engineer! Classes are available for both Junior and Apprentice Engineers in everything from robotics to aerospace and chemical engineering.
At Engineering For Kids, the programs help children improve critical thinking and problem solving skills, inspire creativity and foster independent "out of the box" thinking. Each program is designed to offer an exciting, HANDS-ON experience that encourages collaboration and teamwork among classmates.
The quality and diversity of the programs paired with the passion and talent of the instructors positions Engineering For Kids as an educational enrichment leader.
Engineering For Kids looks forward to inspiring your students!
Register for Evening/Weekend classes now!